Motor City Juke Joint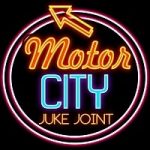 Motor City Juke Joint
Live! Weekdays at 4pm!
Love Music?  Head over to the Juke Joint on New Radio Media!
Join Detroiter and musician, Ben Rose, for a look at what's hot in Detroit's creative scene. Each LIVE episode showcases the wealth of talent in the Metro Detroit area – musicians, artists and other creative personalities you might miss if you don't watch this show.
Live music is just part of the fun. Ben creates a comfortable, conversational atmosphere – it's like sitting around a table with him and talking to friends.
Ben's strong focus on supporting the local creative community makes Motor City Juke Joint the perfect platform for introducing artists to a new audience – and introducing his audience to new artists.
A note from Ben: "Detroit is a hotbed for talent, and I want to expose the world to all that it has to offer. I will listen to anything once. If you're in a band or a solo artist, send me your music. Whether it's a link or a physical copy, just send it. I'll listen to it and might even play it on air. You could even end up being a guest on Motor City Juke Joint. Don't worry about asking if I'm looking for any particular style of music. I'm interested in all genres of music. Sure I listen to a lot of Americana, Rockabilly, Punk, Garage, Surf, Soul, Jazz, Bluegrass, etc., but I'll give anything a chance. Send me an email and we'll go from there."
PERMISSION FOR ALL MUSIC PLAYED AND PERFORMED HAS BEEN GRANTED BY THE ARTISTS.
***DISCLAIMER: The views and opinions expressed on any program, video, broadcast or other production are those of the producers and the persons appearing on the program, video, broadcast or other production and do not necessarily reflect the views and opinions of New Radio Media, LLC, its members, managers, officers, employees, representatives, affiliates or agents. Such opinions are based upon information the foregoing persons consider reliable, but none of New Radio Media, LLC, its members, managers, officers, employees, representatives, affiliates or agents warrant its completeness or accuracy, and it should not be relied upon as such. Comments and other statements made by callers are the sole responsibility of such callers and such callers are solely liable for any statements made by them. New Radio Media LLC reserves the right to restrict access to any caller or terminate a call at any time and for any reason.***