What is Local SEO and Why Does Your Small Business Need it?
Local SEO is a highly effective way to market your business online. It helps businesses promote their products and services to their local customers. Your customers are searching online for something the moment they need it. Local SEO will make sure they can find you. Getting your site ranked on search engines like Google involves various different strategies. Business directories such as Yelp, Superpages, Foursquare, Google My Business, and Bing Places for Business are essential to increasing your local ranking.
With 46% of all Google searches being local it is essential to be found on the first page. You can help increase your chances of getting found by your potential customers by working with a local SEO company.
More Local SEO Stats
96% of PC owners conduct local searches
46% of all Google searches are local
64% of local customers use search engines and directories as their main way to find local businesses
50% of local mobile searchers look for business information (like a company's address or phone number) online
A whopping 78% of local mobile searches result in an offline purchase
(Sources: Searchengineland.com and Business2community.com)
Local SEO services offer a very targeted online marketing approach.
Let's pretend that we had to fix a broken shower. We don't want to be searching through website after website trying to compare who is the best plumber. We want to find the best plumber now!
If we Google "plumber near me" the search engine will list a bunch of results for local plumbers, including their reviews.
Why Does Local SEO Matter?
Local SEO matters because local customers rely on the Internet to find information about your business. They're searching for business hours, directions, local store addresses, and more.
Local Pack
In search results, there are two distinct sections: the paid ads and the local pack. With the right local SEO strategy, you should be at the top of the local pack, receiving the highest clickthrough rate.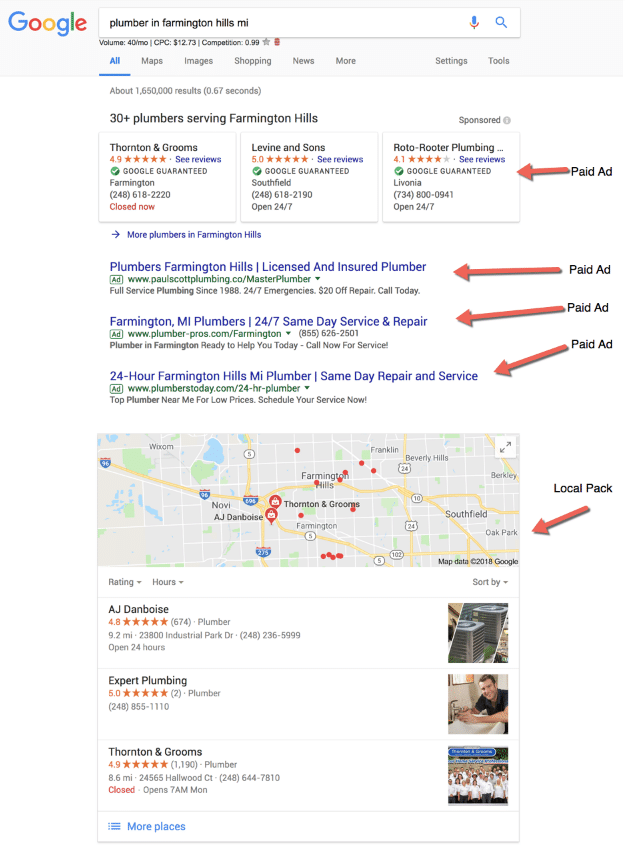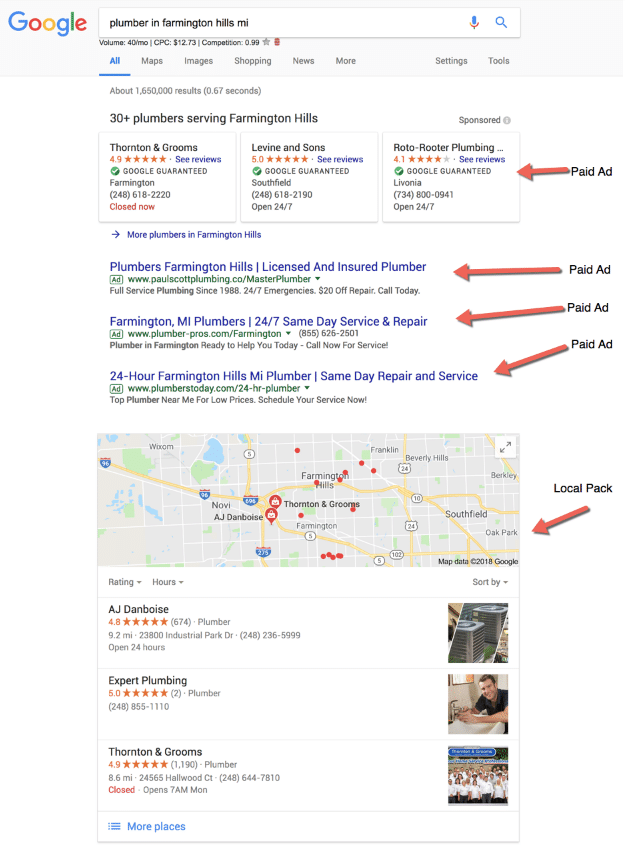 Local search marketing is highly targeted – people are searching for businesses the exact moment they need them.
How Can I Improve My Local SEO Strategy?
Local SEO requires a variety of different strategies:
NAP Citations: Name, Address, Phone. Make sure this information is the same across all of your online assets!
Local directory listings: Claim and verify all of your listings on local directories including Yelp, Superpages, Foursquare, Merchant Circle.
Reviews: Receiving reviews from your customers will help your local SEO trendmously. Solicit reviews and engage in review-building practices on social media and search channels.
Localize content: Localize the content on your website using local keywords for cities you are trying to rank for.
Schema markup: Add to your HTML to improve the way search engines view your website. Using Local Business Schema gives the search engines local information about your website.
Tips on Local SEO
If you don't currently have a local SEO strategy, we highly recommend you invest time and energy into it. Customers will need to be able to find you and you want to own all of the online real estate possible for your business. This will increase leads and traffic coming to your business.
Try using some of the following tools to get your website ranking on page 1:
Claim and verify your Google My Business listing
Make sure your NAP citations are consistent across the web directories that are relevant to your industry
Remove duplicate listings on web directories
Add Local Business Schema to your website
Respond to all reviews
Create a review-building strategy
Consistently build local backlinks
If your website is not showing up in local search results, you're missing a big opportunity to grow your local business. Interested in learning more about Local SEO? Visit our website at www.reachdigitalgroup.com.
Jake Eisenberg
President | Reach Digital Group
CMO | SMB Compass