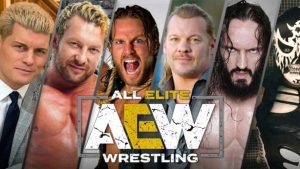 The face of sports entertainment was KO'd by a major change last weekend, and its not just the "Judas Effects" and "DDT" finishers that have things on the mat all shook up. The All Elite Wrestling inaugural pay-per-view event at MGM Grand Garden Arena in Las Vegas last weekend revived the world of sports entertainment, making AEW the hardest hit to wresting mats in years.
Fans were on the edge of their seats as the heart-pounding havoc vibrated the halls of the MGM arena. Blood was spilled, and brutal victories won as new and old faces battled it out on the AEW canvass. Spectators were taken over by the melodrama of  long-time family rivalries and the high-octane Japanese joshi puroresu fighting style.
The rousing saga began with a 2018 tweet from professional wrestling journalist Dave Meltzer, challenging the members of the Ring of Honor (ROH) to reach ticket sales higher than 10,000 for a wrestling event. The friendly bet sparked the creation of the rouge All In wrestling match in Chicago last summer which sold out its more than 11,000 tickets in just 30 minutes. With the departure of Cody Rhodes and The Young Bucks, ROH began to disintegrate, and speculations began about what was next for the gusty gang of liberated wrestlers. The long-awaited news came January 1, 2019, that father-son billionaire duo, Shahid and Tony Khan, would be the main funders behind the newest professional wrestling promotion, All Elite Wrestling.
The Double or Nothing match on Saturday epitomized what the innovative mission statement of AEW is all about. Accompanied by steady wrestlers from the WWE and NJPW franchises, ingenious aerobics, fresh narratives, and a lot of PG-13 rated content, AEW has distanced itself from the customary aspects commonly found in WWE and Raw. The match featured the fearsome Awesome Kong from Netflix's GLOW, who took a squall of bitch-slaps from competitor Kylie Rae like she was a wall of bricks. Accompanying her in the ring was Nyla Rose, the first transwoman to sign to an American wrestling enterprise. To do something new in an industry that seemed so saturated was a heavy task to uptake, but the level of entertainment and satisfying unfamiliarity shocked viewers in a hell of a way that makes us eager for more.
WWE has been a staple of the American wrestling entertainment world for 70 years, producing over 500 events a year with a global audience of over 36 million viewers. The 2017 Hell in a Cell match in Detroit featuring Shane McMahon and Kevin Owens was my first experience attending a live pay-per-view match. I was amazed to see Little Caesar's arena packed full of energized fans of all ages and backgrounds. Even for a fan that isn't always keeping up with the weekly matches and narratives, I was thoroughly amused by the hype of it all and watched with anxiety as Shane took a backbreaking leap from the top of the cage for the second time in his career.
But hidden behind all the fun and games of the WWE industry, the birth of AEW has brought with it honest, negative opinions from prior members. AEW's roster has many familiar faces from WWE, NXT, and other worldwide promotions, making us wonder what drama is happening behind the curtain.
Former WWE champion Dean Ambrose, now known as AEW's Jon Moxley, made it very clear of his opinion that WWE's creative process "sucks". Although he wishes no ill-will towards his previous employers, Moxley claims he struggled with many narratives and promotions given to him by chairman and CEO Vince McMahon. In an interview with Bleacher Report, Moxley says he was given a note saying he "needs to read his promos verbatim and not try to rewrite them". The regulation of content by the head of a company is understandable to a degree, but for those like Moxley, the process took a mental and emotional toll on him. The thrill of taking part in something new and innovative was the opportunity that Moxley and other former WWE members needed to snatch up to make their names once again be part of something great and new.
Whether or not AEW's premier will lead to WWE's ultimate burial may take time to dissect. Fyter Fest is the next event scheduled to take place in Daytona Beach in June, followed by Fight for the Fallen, and All Out in July and August. With the anticipation of tickets being sold out in a flash, ill be sure to try my best to get there before they are all gone.
For more information on the All Elite Wrestling League check out their website at https://www.allelitewrestling.com/.
And don't be shy to tell me what you think! Leave a comment below and check out my other blogs here!