We ain't had nothing but maggoty shows for five stinking years! But don't worry, new Lord of the Rings content is currently in the making.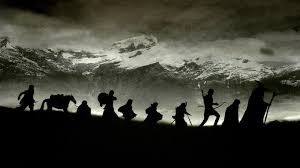 Now that the exhaustive Game of Thrones hype has fizzled out, we fantasy freaks are left searching for our next medieval fix. Slowly gaining power in the shadows of Mordor, the Lord of the Rings franchise is preparing for a new age of glory.
Rumors of Lord of the Rings spin-offs have been a long-standing tease since the last epic Battle of the Five Armies, but substantial progress has been made in the past few weeks. Fantasy and horror mastermind J.A. Bayona (The Orphanage, A Monster Calls, Penny Dreadful) has been confirmed as the newest executive producer for Amazon's upcoming Lord of the Rings series.
The series will be set sometime in the 3000 years of the Second Age, before the time of Bilbo and all our other favorite Hobbits. With thousands of years of Tolkien folklore to work with, producers will likely focus on Middle Earth's lost kingdom and the forging of the Ring of Power. Amazon has since released maps of the ancient kingdom of Númenor, where the series is set to take place.
While there is still no set release date or name dropping of potential cast members, producers and developers are starting to get the ball rolling. JD Payne and Patrick McKay will be joined by Game of Thrones alum Bryan Cogman as they take up the challenge of producing the $1 billion project.
If the news of the Lord of the Rings television series isn't enough to excite your inner elf, Amazon is also in the process of creating its newest LotR massively multiplayer online (MMO) game. The cult favorite Lord of the Rings Online game from 2017 gave players a view inside the world of Middle Earth, but Amazon's repertoire of MMO games like World of Warcraft and Everquest have us die-hard Tolkienists eager for its release.
Are you as big a nerd as I am? Check out my other blogs here!