Something sinister is sneaking its way onto the big screen.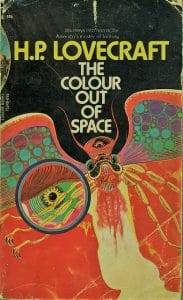 The unveiling of Toronto's International Film Festival line-up has a colorful hidden gem in its program. Richard Stanley's adaption of H.P Lovecraft's The Colour Out of Space will be making its silver screen debut September 7th as part of TIFF's Midnight Madness showcase. The film release comes after months of rumors and only a single photo to show for it. Despite its ominously secretive production schedule, those who have been following its progress finally have something substantial to look forward to.
Earlier this year, the ever-flamboyant Nicolas Cage was named lead role of the film alongside co-star Joely Richardson. Color Out of Space will be the second Spectrevision film starring Cage after the psychedelic thriller Mandy hit theaters last year. If Color Out of Space is anything like Mandy's phantasmagoric tale of revenge, the wild acting style of Cage and vivid cinematography of Spectrevision will most likely be showcased to their highest degree.
Lovecraft's short story takes place in the quiet farming town of Arkham, where winding valleys and rocky slopes blanket the serene New England community. An unnamed narrator recalls a tale of horror told to him by a local farmer, who is one of few who remain in the area after a series of disturbing and unexplained events. He explains that when a meteorite landed on the farming property of a local family, the surrounding floral and fauna began to undergo some unearthly transformations. A mysterious color, outside of the normal spectrum, seeped from the remains of the extraterrestrial mass, leaving behind a trail of grotesque and chilling aftereffects.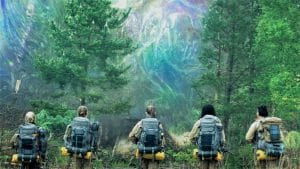 The tale is a masterpiece of visual storytelling written by one of the most well-known horror/science fiction writers. Numerous film and literary adaptations showcase the idea of a destructive alien life force much like that of H.P. Lovecraft's. One of the more recent mimics of Lovecraft's "color" was seen in Alex Garland's 2018 film adaptation of Jeff VanderMeer's Annihilation. The film features a kaleidoscopic "shimmer" that, while visually pleasant, brutally mutates anything in its path. It's hard to dismiss the influence Lovecraft has had on many modern films, but there hasn't been a modern remake of The Colour Out of Space until now.
It's likely that Color Out of Space will utilize an array of eccentric visuals, especially with the unconventional track records of both Spectrevision and Richard Stanley. Fans of all things Lovecraft have high hopes for the upcoming film, and luckily for us, the Stanley, Cage, and Lovecraft trio will surely result in something fantastic.
Like nerding out as much as I do? Check out my other blogs here and let me know what you think!