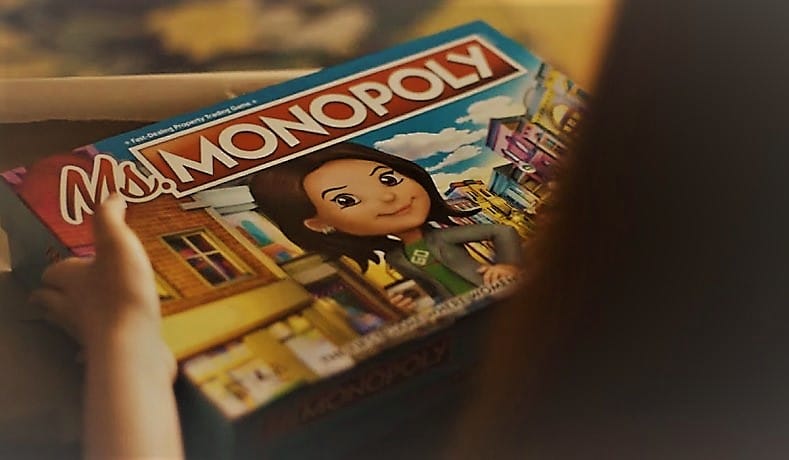 Hasbro Reimagines Classic Game with 'Ms. Monopoly'
You remember Monopoly, right? The iconic Hasbro board game where you try to earn the most money and buy Boardwalk before your cousin can even if it means complete bankruptcy?
Monopoly is the classic game everyone has stored in their closet that only gets taken out during power outages or family reunions, but all that is about to change.
Instead of remaining a beloved family classic rarely played, Monopoly has now been revamped with a new 2019 update called Ms. Monopoly. Hasbro's announcement of the new game highlights the titular mascot, who replaces the iconic "Rich Uncle Pennybags" original.
Unlike her uncle, who is a real-estate mogul, Hasbro describes Ms. Monopoly as "an advocate whose mission is to invest in female entrepreneurs." Instead of buying properties, players can invest in female innovations and inventions such as WiFi, stem cell isolation, and chocolate chip cookies.
Ms. Monopoly's mission is also furthered by the game's mechanics. Unlike the real world, in Ms. Monopoly women earn more than men. At the start of the game, female players receive 1,900 Monopoly dollars while male players get 1,500. Female players also receive more after passing "Go," earning 240 Monopoly dollars instead of the standard 200.
But don't worry! Both men and women can still win at Ms. Monopoly. The Chance and Community Chest cards offer different Monopoly buck amounts based on the player's gender. For example, a male player who draws one of the game's 16 Community Chest cards can earn 250 Monopoly dollars for writing an article on successful women entrepreneurs while a woman can only earn 200.
With Ms. Monopoly, Hasbro is trying to show it's plugged into our current cultural climate by offering its players an added spin on the gender pay gap debate. It's a clunky, though perhaps well-intentioned move from one of America's most iconic toy and board game companies. However, it may cause many to wonder: Why is Hasbro attempting to address in their game a gender wage gap that doesn't exist?
Gender has never been a factor in Monopoly. In traditional Monopoly, players are represented by tiny pewter tokens like a top hat or a thimble. Every player receives their 1,500 Monopoly dollars to start, and from there, it is a game of investment and strategy until one player has all the cash or everyone gets tired and abandons the board.
In Ms. Monopoly, Hasbro has taken gender and made it the game's highlight. It's a strange move, given that gender politics have never been part of the original Monopoly. Monopoly's main sin as a game is not gender inequality, but its support of ruthless capitalism. Despite its transition to the new and the novel, its capitalist qualities are inherent to the game and impossible to eliminate. Even with their 2019 addition of Monopoly: Socialism, Hasbro's innovative attempts to change the core of the game have been seemingly unsuccessful.
Just to be clear: it is not a bad thing that Ms. Monopoly exists. It's just a confusing move for a classic game that has other problems. However, if you simply must have it for your Monopoly collection, Ms. Monopoly is now available for purchase at Walmart for $19.99.
What do you think of Ms. Monopoly? Is it a much-needed update to a classic game, or does it feel as unnecessary as Monopoly: Socialism? Let us know in the comments below!.
Written by Jillian Law
Tags:
blog
community chest
controversial
game mechanics
gender
gender roles
Hasbro
iconic board games
innovative
Jillian Law
Monopoly
Monopoly collection
Monopoly: Socialism
Ms Monopoly
new
new game
nrm streamcast