After a turn in big-blockbuster directing, Guy Ritchie has returned to his crime-caper roots. At least, that's what the first official trailer for his newest film The Gentlemen suggests.
Unlike some of his latest films, The Gentlemen's trailer both looks and feels like a Guy Ritchie movie. It's firmly entrenched in the crime world, and it bears his signatures. This makes sense considering Ritchie both wrote and directed The Gentlemen. After making Aladdin, a film that feels like it could have been directed by anyone, it's nice to see Ritchie back in his element.
This trailer is certainly a wild ride. Hugh Grant has a high-pitched Cockney accent and a terrible beard. He just wants Charlie Hunnam to play a game with him. Meanwhile, Matthew McConaughey is rocking a three-piece plaid suit with a bowler hat and facing off against Henry Golding in a fabulous coat with a fur collar.
On top of all that, we also have Colin Farrell tying snitches up in trunks in a truly heinous track suit. Vaults are broken into. Gunfights are had. And until the words "millennial firework" are spoken and a laptop is seen, it feels entirely like it could be a period crime film.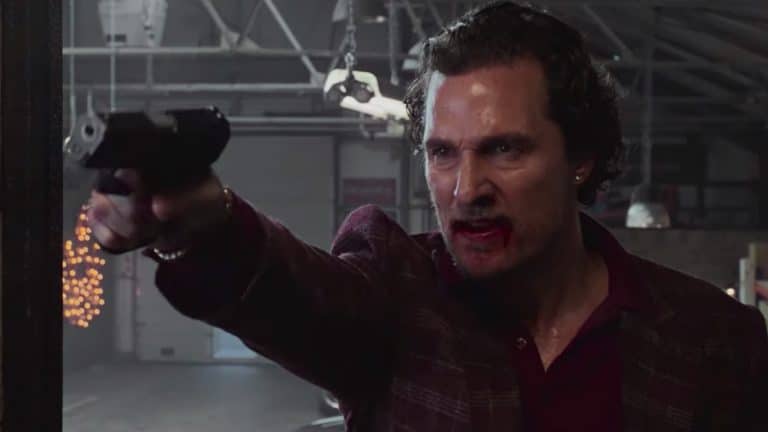 So what is The Gentlemen about? Well, that remains to be seen.
According to the IMDb description, "A very British drug lord tries to sell off his highly profitable empire to a dynasty of Oklahoma billionaires." That description would make sense if McConaughey's Mickey Pearson is supposed to an Oklahoma billionaire, but in the trailer he mentions, "Mary Jane is my vice." This indicates he's the drug dealer, and he's certainly not British.
MovieWeb may have a more solid handle on the film's plot. They reported that The Gentlemen focuses on "an American expat named Mickey Pearson (Matthew McConaughey) who has managed to build a highly profitable marijuana empire in London." However, when Mickey starts looking to get out of the business for good, all hell breaks loose as others try to steal his pot empire out from under him.
Either way, The Gentlemen's first trailer is promising. It features a stellar cast ranging from beloved veterans Hugh Grant and Colin Farrell to new breakout star Henry Golding. Matthew McConaughey's presence is particularly delightful; who knew London needed him there to run a marijuana empire with his signature drawl?
Fortunately, The Gentlemen will be released on January 24th, 2020, so we don't have to wait too long to find out what exactly is going on with this movie. And if it features more of McConaughey being a London crime boss in a three-piece suit, it is sure to be a hit.
What did you think of this trailer? Is it the right move from Ritchie? Let us know below in the comments!
Written by Jillian Law